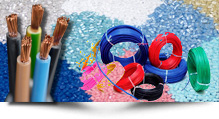 Our Products
Applications
Our Company offers wide range of PVC Wires Compounds for the cable industry. The product portfolio spans a diverse range of applications - electrical, telecom, house wiring and automotive
The compounds are designed to give cables a long service life.
Electrical
Power
Control and Instrumentation
Winding wire for Submersible Pump Motor
Three Core Flat Cables
Appliance Cords
Electrical Plugs and Connectors.

Compounds are available for both insulation and sheathing.
House Wiring
General Purpose Wire
Flame Retardant Wire
Flame Retardant Low Smoke Wire.

Telecom
Signaling Cables
Telephone Cables
Self-Supporting Drop Wire
Jumper Wire
Switch Board Cables
Coaxial TV Cables
LAN Cables.

Automobile Cable
AV, AVS and AVSS Cables
Battery Cables
Mechanical Control Cable