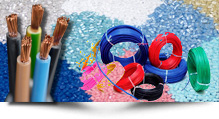 Our Products
ROHS & REACH
Compounds
Able Industries is extremely conscientious about providing customers with accurate information about our products and processes relating to environmental compliancy and established industry specifications and standards.
We pride ourselves on working with each and every customer to address our specific product and market needs. We will remain committed to finding new ways to formulate traditional and new compounds with minimal or no defined hazardous ingredients, as well as offer more eco-friendly alternatives whenever possible.
Compliance will continue to be a Able's core competency as new research and regulations evolve around the world for vinyl plastics.
ROHS : Restriction of Hazardous substances. European Directive 2002/96/EC.
REACH : Registration, Evaluation, Authorization and the restriction of Chemicals.
Role of Able Industries
Contributing towards an Environment, Able Industries has developed many grades which have found tremendous acceptance with some of the reputed companies like Panasonic, LG Electronics etc.
Having different & dedicated lines for both ROHS & REACH Compliant PVC Compound & Master
Batches
Provides complete line of ROHS & REACH compliant vinyl wire and cable compounds
Provides different Pkg for clear identification
Grades available in both Extrusion & Moulding
All products are approved for ROHS & REACH Compliance from SGS lab.
Ongoing Improvement of all products in our PDRC