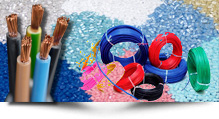 Our Products
PVC
Compounds
Able Industries offers a full line of standard & custom formulations for a variety of markets and applications.
Able Industries offers PVC Compounds which provide enhanced electrical properties, flame & oil resistance & improved low temperature flexibility. As the demand of Flame Resistance Low Smoke has been increasing in the cables used in building, automotive applications, power grids & telecom. Our Company has developed FRLS Compounds which give extremely low smoke & toxic gas emission while maintaining high value of temperature & oxygen index.
Able Industries puts maximum focus on strict & scientific quality checks at every stage right from raw material procurement, production till final dispatch which ensures that every product that reaches the customer give them the maximum value for money.
Keeping top priority on Quality Concern & making world class product the company has found tremendous acceptance with some of the reputed Indian Companies & MNC
Application.
Flexible (For Wires and Cables)
Automotives
FRLS
Vinyl
Moulding
Click here to download datasheet 1

Click here to download datasheet 2