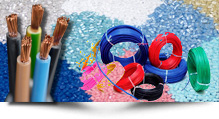 Our Products
Master
Batches
In the way of expansion, Able Industries has recently started its Master Batch Unit suitable for various sectors like Wire & Cable, FMCG , Consumer Durables etc.
With an aim of 'Quality at the top' and associating with the best brains of pigment industries, our company is finding tremendous acceptance in many reputed companies for their color solutions.
Able has developed a standard range of master batches based on PE, PS, EVA, PVC and universal polymers. This product range comprises specially selected pigments to give a spread of properties from high jetness, UV protection, and food contact approval to more economical for imparting only coloration. Besides a standard range we also customize our masterbatches as per customer needs.
All masterbatches are manufactured on the most sophisticated and modern Continuous Compounding Line ensuring maximum degree of blending and dispersion without the problem of contamination.
Product Range
WIRE & CABLE MASTER BATCH
BLACK MASTER BATCH
WHITE MASTER BATCH
COLORED MASTER BATCH
ADDDITIVE MASTER BATCH
ROHS & REACH COMPLIANT MASTER BATCHES(ALL COLORS)