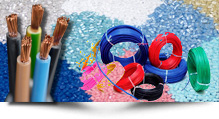 Our Products
Our
Products
Able Industries provides the flexible PVC Compounds available in standard & customized formulations are suitable for use in extrusion & moulding application.
Our Company manufactures PVC Compound for wires & cables which can be used in almost every possible jacketing and primary Insulation application including:
Consumer Electronics
Power & Control Cables
Automobiles
Building wires
Telecommunication
Fibre optics
Our Company offers comprehensive range of PVC Compounds & Masterbatch for various application meeting the stringent requirement of Bureau of Indian Standards & International Standards such as IS: 5831, IS: 1554, IS: 694, IS: 13176, BS: 6746, ASTM D 2863, ASTMD 2843, IEC 754-1 etc.
Able Industries manufactures PVC Compound suitable for TYPE A, TYPE B, TYPE C, ST-1, ST-2, ST-3, AV, AVS, AVSS, FLRY-B, FR, FRLS, Moulding Grades in Clear Crystal & Color.
Able puts maximum focus on strict & scientific quality checks at every stage right from raw material procurement, production till final dispatch which ensures that every product that reaches the customer give them the maximum value for money.
Keeping priority on Quality Concern & making world class product the company has found tremendous acceptance with some of the reputed Indian Companies & MNC